Homes For Sale in PebbleCreek
Voted as one of the top 100 best master planned communities in the country by "Where to Retire" magazine. Located in Goodyear, Arizona, just 17-miles west of downtown Phoenix, where the mountains and the palm trees reach for the clear blue sky. At PebbleCreek, retirees will find a neighborly ambiance, an emphasis on green space and a host of luxurious amenities from fitness, swimming, tennis, pickle ball, and even a park for your dogs to run free.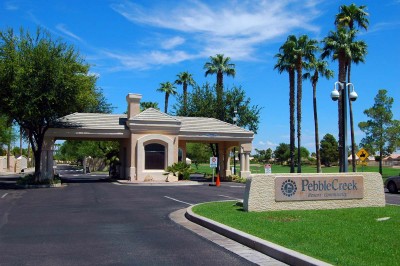 More about homes for sale in PebbleCreek
Developer Ed Robson, builds each home in PebbleCreek with the Integra Block wall system for a more durable, energy efficient, comfortable home. Prices of the Homes for sale in PebbleCreek range from $180,000 – $850,000.
There are countless choices of recreation and social activities for the active retirement life. The Eagle's Nest Country Club includes swimming, fitness, and tennis, while the lavishly appointed Tuscany Country Club boasts a restaurant, performing arts theater, ballroom, softball field, and multi-purpose activity rooms. Creative Arts Center includes pottery, glass staining, wood working and a variety of other clubs and classes.
PebbleCreek boasts 3 championship golf courses with variety for golfers at any skill level. Tuscany Falls Course features three 9-hole and three 18-hole combinations. Eagles Nest 18-hole course features seven lakes and gorgeous views of the White Tank Mountains.
Paula & Susan Fix specialize in Homes for sale in PebbleCreek. Whether you are thinking of Buying, Selling, or Renting in PebbleCreek, we are your local/resident experts! Call us today at 602-616-7816 and start living the lifestyle you've always wanted.
[spatialmatch_map id=52 width=100% height=750]