Homes for Sale in Litchfield Park
Recognized by Phoenix Magazine as "one of the 8 best places to live in Arizona," Litchfield Park is an enchanting small city just 15 miles west of Downtown Phoenix. With easy access to the I-10 Freeway, commuting is a breeze when living here. Homes for sale in Litchfield Park are conveniently close to various attractions, parks, and top-notch schools. This charming community is a great place to purchase a home.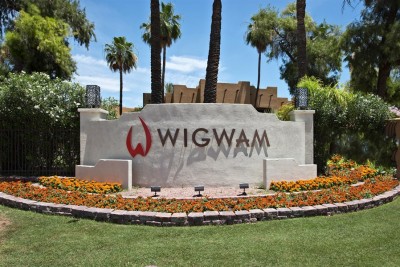 A Closer Look at the Homes for Sale in Litchfield Park
Residents of Litchfield Park real estate enjoy a variety of things to do for fun. World Wildlife Zoo is located here, making for a great family outing. The Phoenix International Raceway is also nearby for major auto races including Indy cars in the Spring and NASCAR both in the Fall and Spring months.  Litchfield Park is also home to the Wigwam Golf Course Resort and Spa. Many special events take place at or near this luxurious venue. The Wigwam Resort has fantastic restaurants, great night life with a family friendly environment.  It also contains three 18-hole championship golf courses, 2 swimming pools and an Elizabeth Arden Red Door Spa.
Those who purchase homes for sale in Litchfield Park immediately belong to a city with amazing community spirit. There are many wonderful events held throughout the year including Festival of Arts, which features fine artists and craftsmen, live music, a food court, wine tasting, and children's activities. Other events include Outdoor Concert Series, Arts in the Park, Western Heritage Days Golf Tournament, and a Winter Trout Fishing Derby.
For outdoor recreation, there are 10 beautiful parks located near the homes for sale in Litchfield Park. A few of these are Little Park, Turtle Park, Aleppo Park, and Staggs Park. These picturesque outdoor spots include features like winding trails, playgrounds, soccer fields, picnic areas and more.
Another great benefit of living in Litchfield Park is the fantastic schools in the area. The Litchfield Elementary District School District contains some of the best schools in Arizona. A few of the schools near Litchfield Park homes for sale are Litchfield Elementary, Western Sky Middle School, and Millennium High.
Located near the western edge of the West Valley, many properties in Litchfield Park offer distant views of the majestic White Tank Mountains. There are gorgeous natural features throughout the community, giving Litchfield Park an oasis-like environment. The beautiful homes here nicely complement the gorgeous surroundings. Weather you prefer a Condo, Town Home, Custom Home or wish to build a new home, Litchfield Park has options for you! Home prices range from approximately $100,000 to $2,980,000.
If you would like to know more about available homes in this lovely city, please contact area experts and real estate professionals Paul and Susan Fix at 602-616-7816.
[spatialmatch_map id=54 width=100% height=750]